The enclosure is a part of the motor used for the protection of the motor from the environment and persons from being touch.
A mechanical fan cannot be left open that can harm the personnel in case of accidental touch. That is the reason enclosures are necessary for safety.
Motor Enclosures
There are certain standardized types of motor enclosures.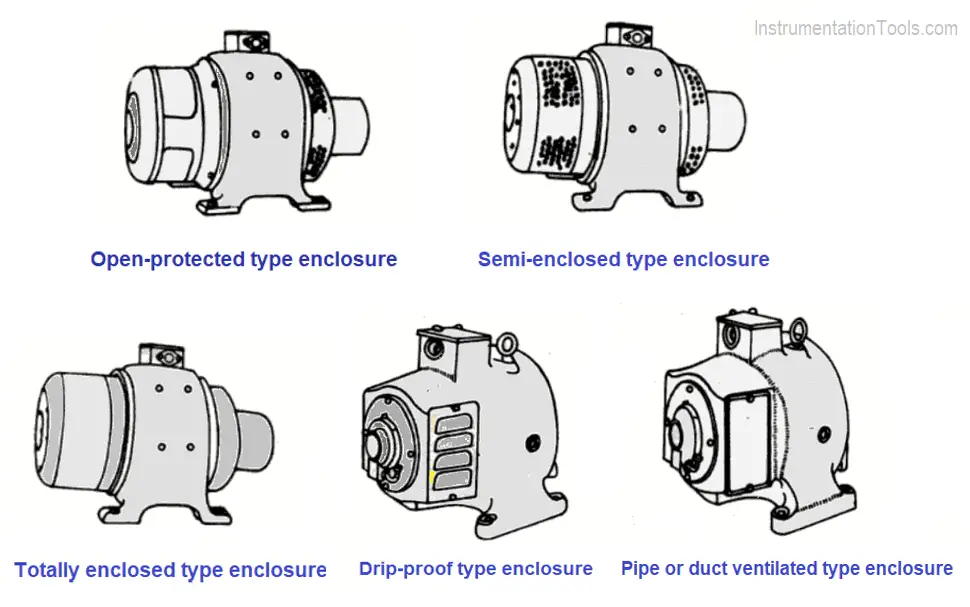 In this article, we discuss seven types of enclosures.   
Open-protected type
The enclosure provides free access to air and also provides sufficient mechanical protection.
This type of enclosure is suitable where there is no unusual exposure to dust particles or dampness.
Semi-enclosed type or screen protected type
In order to give additional protection to the motor, metal grids or perforated covers are provided as shown in the figure.
This will prevent particles from being drawn inside which may cause a short circuit or another type of damage to the motor.
Totally enclosed type
In the totally closed type motor enclosure design, there will be no free circulation of air between the inside and outside of the motor.
However, the enclosure is not necessarily "airtight". A totally closed type motor enclosure is shown in the figure.
This type of enclosure is used in motors installed in mill and factories where there are dust and moisture in the environment.
Totally-enclosed fan-cooled type
In a totally-enclosed machine, an efficient method of cooling can be provided by a fan, driven by the motor itself, blowing external air over the cooling surfaces and through the cooling passages.
This type of enclosure is used in a dirty, dusty, and corrosive environment.
Drip-proof type
In this type of enclosure, the openings for ventilation are so provided as to prevent vertically falling water or dirt from entering inside the motor as shown in the figure.
Splash-proof type
With such an enclosure, liquid or solid particles falling on or reaching any part of the machine at any angle between the vertically downward direction and 100 degrees from that direction cannot enter the machine.
Pipe-ventilated or duct-ventilated type
In this type of enclosure, there is a continuous supply of fresh ventilating air. The frame I so arranged that ventilating are conveyed to and from the machine through pipes or ducts attached to the enclosing case as shown in the figure.
Reference: Electrical Engineering drawing by Dr.S.K Bhattacharya 2007
If you liked this article, then please subscribe to our YouTube Channel for Instrumentation, Electrical, PLC, and SCADA video tutorials.
You can also follow us on Facebook and Twitter to receive daily updates.
Read Next: