This article is based on the topic internet of things. Many people get confused or even some people do not understand the meaning of the internet of things.
Internet of Things (IOT)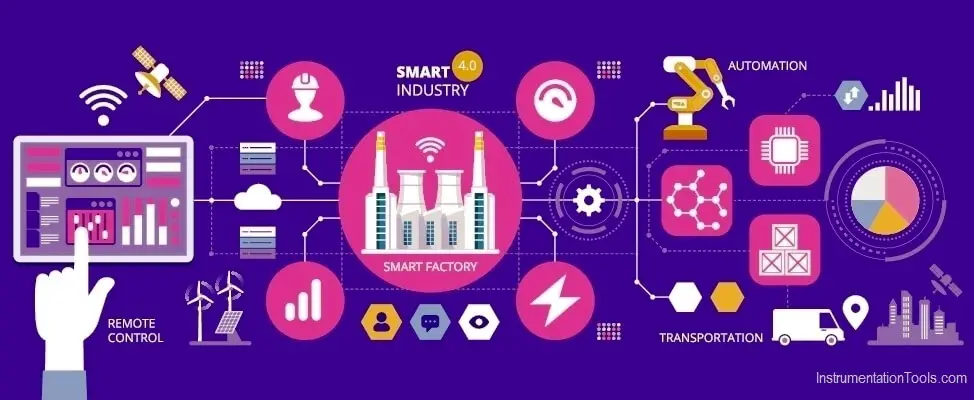 It was in the early 2000s when the term "Internet of Things" introduced since then things getting change till now and now it improved even at a faster rate. IOT is a collection of SMART devices that can transmit and receive data over the internet.
Traditionally not designed in terms of industrial, we have some common examples like CCTVs, Traffic lights, some home appliances are used to record & transmit information.
In terms of the industrial internet of things, it means a network of the devices that we can take care of from the longer distance to reduce time, increase efficiency, reduce cost and better product.
I give you an example of the IIOT in our PET bottling plant, where we faced an issue regarding HMI. The problem was due to some mistake whole data was erased from the main HMI.
Our plant make was a German company and they record all the data to their server. So, we called them and they have fixed an issue by recovering all the data using IOT.
By using IIOT you can access all the data anywhere in the world, just you need an internet connection.
Some other example, in which you may have heard that you can control Air Conditioner using your mobile. Also you can control your TV, thermostat temperature control using your mobile even though when you are not at home using IOT devices support.
So, the main purpose of the internet of the thing is to save time and reduce cost by automating tasks or using remote support.
From a small scale of use like for the home appliances to large scale use using the whole city, you can control by interconnecting IOT supported SMART devices.
Imagine that we have thousands of the sensor and have to keep track of them all by collecting their data. Have to note down and to remember the data is a tedious and time-consuming task or even it is not possible. Here where IOT comes in play by tracking and keeping records of all the sensors which allows us to monitor things closely to mitigate the incident in the plants and increase the safety.
All the data collection using IOT is analyzed to identify the problems in the plants and then further it analyzes by machine learning and creates trends for the future use to make a better decision.
Nowadays devices are getting smarter and also increase in the usage of such a device can halt in security as hackers can easily access all the things over the internet. They can change privacy, they theft the data. To use such facility and to save from malicious activity great care must be taken.
Let's dig into industrial IOT which is also knowns as the fourth industrial revolution. Let us discuss in brief of all other industrial revolution from the beginning.
Industry 1.0 (The industrial revolution)
It was in around 1700s and 1800s were the first industrial revolution took place. During this time, manufacturing was done using a machine instead of hand.
Due to that safety and precision was increased resulting in more efficient production and save time too. Steel manufacturing and goods packings were started in this revolution.
Industry 2.0 (Technological revolution)
In the early 1900s, industry 2.0 or Technological revolution took place. This revolution had allowed things or machine of the 1st industrial revolution to greatly improved.
Start of the manufacturing of the oil, rubber and chemical takes place in this 2nd revolution has greatly expanded the industrial world.
Industry 3.0 (Digital revolution)
In the early 1950s, this revolution took place which had converted all the mechanical and analogue technology into a digital one.
From the television, radio, internet, computer to the telephone all start in this 3rd Digital revolution has changed the whole life we live. The advent of GPS also took place in this revolution. Transportation gets changed too.
Everything has greatly improved our lives to help us to make use of things more quickly.
Industry 4.0 (Internet of things)
This industrial revolution just begins with the introduction of artificial intelligence, machine learning, Collection of the big data, nanotechnology, quantum computing, 3D printing, SMART devices have further changed our way of lives and is still improving.
Industry 4.0 has made everything easier to use. Mostly every industry runs on this. All the machine's and devices can control using the computer and even from a longer distance.
From the record from the past data, you can further improve things which we are using today thus improving downtime and also reduce failure rate too.
Control of the entire city by collecting data from its citizen, automobile, public transportation, aviation industry,
Over 2.5 quintillion bytes of the data generated daily and 90% of the data generated using IOT alone. More than 25 million SMART devices are in use until now. To take care of such data is not even possible without the internet of things. We are still in between revolution and change in the world.
Author: Suhel Patel
Read Next: