On this page, you can learn digital electronics multiple choice questions answers, MCQ on digital electronics with answers.
MCQ on Digital Electronics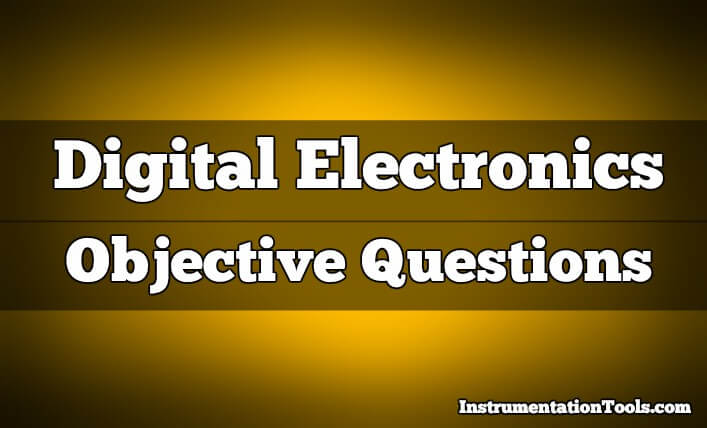 1. Fastest memory element is
A) ROM
B) Cache
C) Hard Drive
D) RAM
2. What is the difference between the XOR gate and the EXOR gate.
A) both are same
B) xor gives two outputs while exor gives one
C) xor and exor are complement of each other
D) xor gives one output while exor gives two
3. Counter is a
A) both combinational circuit & sequential circuit.
B) sequential circuit.
C) combinational circuit.
D) none of the answers
4. The set of which logic gates is designated as universal gate?
A) NOR , NAND.
B) XNOR, NOR, NAND.
C) XNOR, NOR, NAND.
D) NOT, OR , AND.
5. Which GATE IS CALLED INEQUALITY COMPARATOR?
A) AND
B) XOR
C) NOT
D) NOR
6. One bit full adder has ________ inputs
A) any number
B) 4
C) 3
D) 2
7. In flip flop clock is present but in latch clock is
A) present always.
B) absent always.
C) none of the answers
D) may be present/absent.
8. The fast logic family is
A) DRL
B) TRL
C) ECL
D) TTL
9. Which of these sets of logic gates are designated as universal gates?
A) NOR, NAND, XNOR.
B) XOR, NOR, NAND.
C) NOR, NAND.
D) OR, NOT, AND.
10. A flip flop is a _______ circuit.
A) Combinational
B) Both Combinational & Sequential
C) None of the answers
D) Sequential
Click on the below button to launch the Quiz.
All 30 questions and answers are available in the Quiz.

Share your answers with us through the below comments section.
Take All Tests :