Deep hole drilling allows the machinists to manufacture a quality product in less time.
Deep hole drilling is prominent in engineering materials and gets used across various sectors that include automotive, renewable energy, and aerospace to name a few.
Table of contents
Deep hole drilling is performed on machines to optimize the processes for efficiency.
The procedure of deep hole drilling is simple, but many machinists are unsure about the tolerance size, hole straightness, and surface finish.
It gets resolved by using the proper CNC machine tools and processes helping in deep hole drilling.
CNC Machining Deep Hole Drilling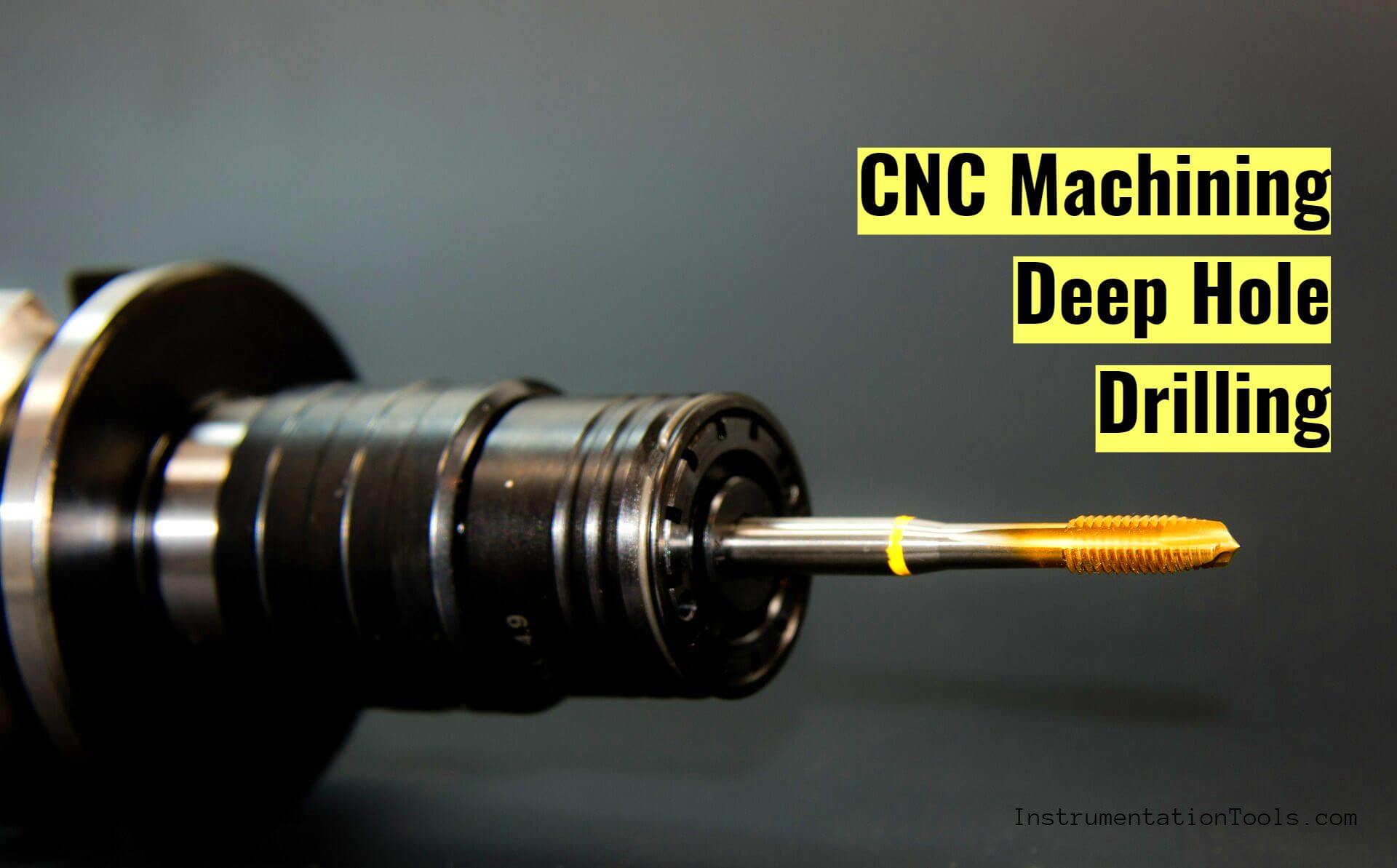 Deep Hole Drilling Methods To Implement For Machined Parts.
Gun drilling
Precision gun drilling technology allows the machinist to drill up to 600 times the diameter.
The challenge with drilling deep holes is to remove the material that gets away. The traditional twist drill method is not efficient in drilling holes at deeper depths.
Gun drilling is suitable for deeper depths making it possible to cut ultra-deep holes with a depth to diameter ratio of 600:1.
Gun drilling produces small holes in comparison to other processes. Gun drilling provides an excellent surface finish due to the guide pads and reduces the cost of production.
The main advantage of gun drilling is the ability to cut materials into small pieces. The gun drilling gets adapted well with harder metals and also other metals.
Gun drills are commonly used on single-purpose gun drilling machines and a wide range of machining applications. They have sufficient high-pressure coolant and filtration systems on their turning centers. With this drilling system, it is possible to drill to depths of more than 100 x dia.
Gun drilling is the perfect process to get used for deep hole drilling and has many positives like precise holes and straight drilled channels. It gets carried within high tolerance according to the specifications.
Some machines for gun drilling:
UNE6 Series
UNE Series
UNI Series
BTA Drilling
BTA drilling is one of the forms of deep hole drilling. It gets used for holes that range from 20mm to 630mm. It works well with materials that can't produce rounded chips during the CNC machining process.
BTA drilling has a stiff design that helps to achieve better metal removal rates than gun drilling. Sometimes BTA drilling is referred to as STS (single-tube system). This process is a cleaner and seamless approach than conventional drills.
Various sectors rely on BTA drilling. The major industries are oil, gas, aerospace, and nuclear power. BTA drilling manufactures precision parts with tight tolerances in materials that are tough to drill.
The harsh condition present in these industries demands ideal tubing that can withstand high pressures and temperatures. BTA drilling fits the criteria well for CNC machining.
Advantages BTA Drilling has over Gun Drilling:
It has higher drilling rates due to the design of the cutting tool.
Efficient extraction of the metal chips that allows maximum performance.
Some machines for BTA drilling:
B-Series < 800 mm Swing
USC-M Series
UNI Series
Ejector Drilling
Ejector drilling is another process ideal for deep hole drilling. It is different from gun and BTA drilling as it uses a pair of concentric tubes.
Ejector drilling is compatible with machining centers, lathes, boring machines for deep hole drilling, and it is a favorite for many machinists.
The flow of the high-pressure ejector drills gets designed to avoid any chin buildup through constant chip removal via the ejector tubes. The process is faster than gun drilling and is known for cutting straighter holes with high tolerances.
The ejector deep hole drilling tools are nearly identical in design to the BTA deep hole drilling tools. The extra coolant discharge outlets get depicted in the diagrams.
Some machines for Ejector drilling:
BVN Series
Special Purpose Machines
Summing it up
Deep hole drilling requires a lot of operation from the machinist end. A slight mistake during deep hole drilling can prove to be costly during the manufacturing process.
Are you also facing common issues during deep hole drillings like poor surface finish, inadequate tool life, hole concentricity, and more?
Implement these three methods, Gun, BTA, and Ejector drilling for deep hole drilling suitable for all CNC machining. You can choose the dependent according to the specification of the custom part by the client.
Author: Norm