In this article, we shared the top most popular CNC software programs list and their summary.
Popular CNC Software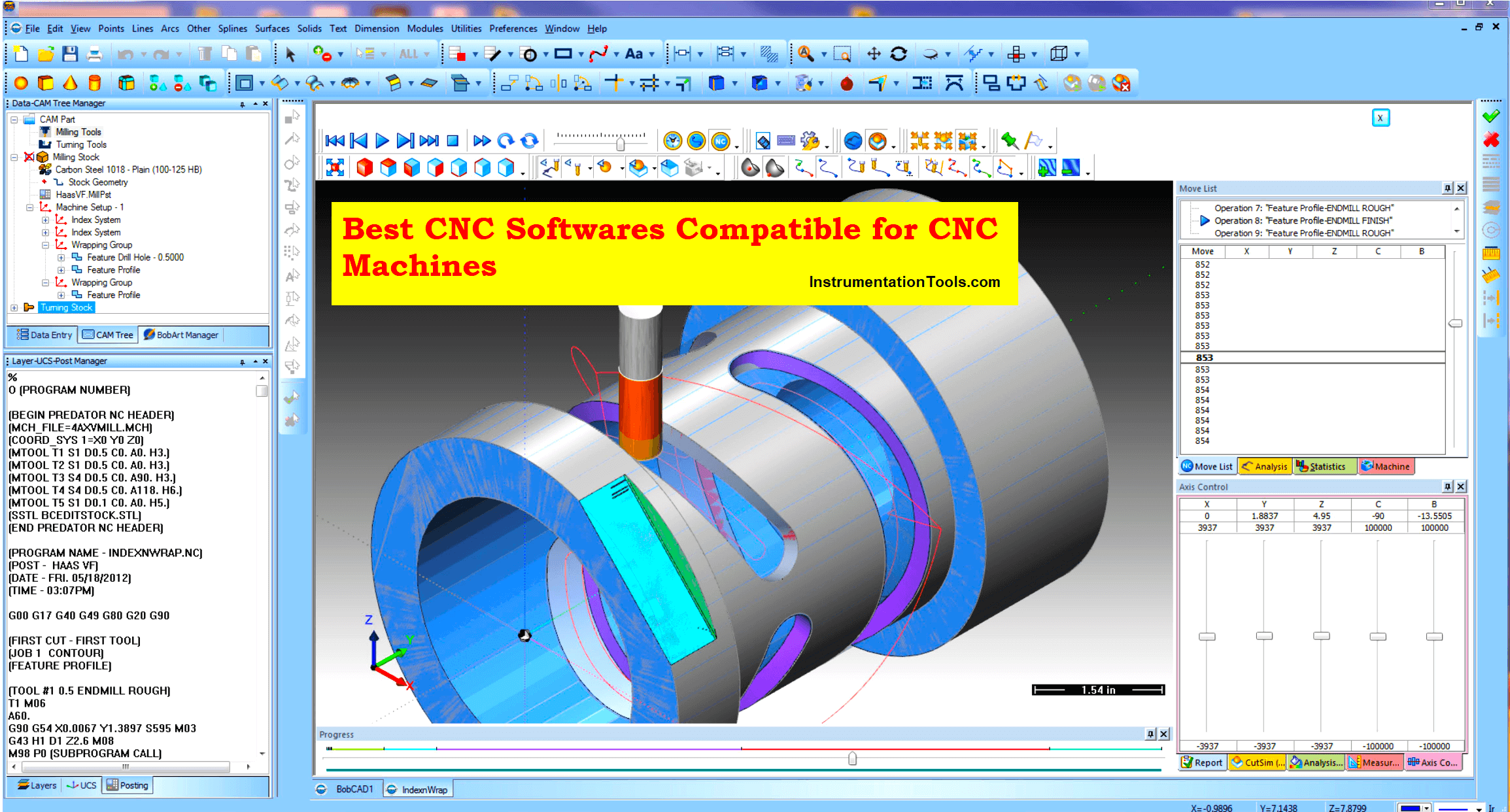 Here is a list of some popular CNC software:
Mastercam
SolidWorks
Autodesk Fusion 360
CATIA
Siemens NX
RhinoCAM
BobCAD-CAM
HSMWorks
GibbsCAM
SurfCAM
Mach3
LinuxCNC
DeskProto
AlibreCAM
Hypermill
EdgeCAM
PowerMILL
Vericut
SprutCAM
Delcam
Some of the CNC softwares details are provided below.
Aspire
Aspire is a software solution for designing and creating tool paths on a CNC machine.
Provides relevant tools for 2D design,
Tool paths calculation for 2D and 2.5D.
It has the capability of texturing.
Aspire includes design and tool paths for the four stages of processing.
Pricing: it offers a free trial for a limited period, and the pro version costs $1995
Easel CNC
Easel CNC is an all-in-one package that includes part design to machine control.
It automates complex settings.
Easel CNC is easy to learn.
Easel CNC offers a free trial version with limited actions
The paid version of Easel Pro gives provides an accessible and flexible design.
The pro version of the CNC package is targeted primarily at CNC routers.
Easel CNC can be paired easily with X-Carve CNC Machines
X-Carve CNC Machines' design and manufacturing capabilities and the ability to drive CNC machines.
Pricing: it offers a free trial for a limited period, and the pro version costs $24 per month.
AutoCAD
AutoCAD is popular 2D CAD software.
AutoCAD was first launched in 1977.
These deficits are for some tools that assist in CAM processing.
AutoCAD 3D software files can be used for other software.
It is widely used for both architecture and mechanical design work.
Pricing: it offers a free 30-day trial student version, and the pro version license costs $1,700 per year.
Inkscape
Inkscape is an open-source program developed by RepRap users
Inkscape is a free vector graphics editor.
Inkscape works with all major formats.
It is widely used for artwork and industrial designing work purposes.
Inkscape includes an option for uploading direct tool path files to CNC software.
It deficits full-featured CAD/CAM software packages.
It is considered a good starter tool for designers and is widely used.
Marlin
Marlin is firmware that can be used with a 3D printer because it is a 3D printer focus.
This firmware supports spindle and CNC laser configurations.
It can be set up to control CNC drivers along with Arduino, Sanguino, and Brainwave products.
Marlin for CNC machine control setting is difficult.
It is not capable of a software package specifically developed for CNC machining.
Pricing: it offers a free 30-day trial student version and the pro version license costs only $14 (one-time charge).
Fusion 360
Fusion 360 includes all required CAD/CAM software tools.
Fusion 360 provides a plug-in for a complete suite of CNC tools.
It is a powerful and well-liked all-in-one solution.
Its CNC CAM plugins, and machine control plugins facilitate tool path creation, verification, and direct machine control.
Pricing: it offers a free trial version and the pro version license costs $495 per year.
Solid Works
Solid Works is one of the leading professional CAD software.
It offers various levels of add-ons from CAM-Works it operates within itself.
CAM-Works has a great reputation for CNC router and milling applications.
Calling the specifications for this machine to be programmed is easy.
It is easy to create and update tool paths when model changes are made.
Solid Works licenses are expensive.
Pricing: it offers a free trial student version at a very low cost accredited by an institution, and the pro version license costs thousands of dollars per license per year.
E-CAM
E-CAM is an integrated CAD/CAM program.
It consists of simple CAD and good CAM tools. 
This software drives CNC mills, routers, and lathes properly.
The CAD system is limited to basic profiles and simple edits of imported data. E-CAM is most used for its easy generation of tool paths through conversational programming.
A simultaneous split-screen view of the conversational tool-path programming and the resulting G-code accommodates all skill levels of programmers and enhances the rate of learning.
Pricing: E-CAM costs $180 for basic milling capabilities and $420 for a full professional mill and lathe package.
Linux-CNC
Linux-CNC is a widely used tool in the hobby CNC machine sector.
Linux-CNC is a free version.
It uses a Parallel port interface and real-time extension to drive a machine to reduce the risk of timing errors
Linux CNC is highly customizable.
It works on Raspberry Pi and communicates through Ethernet and Mesa external cards.
Planet-CNC
The Planet-CNC software solution is a full hardware/software setup.
Planet-CNC controls the CNC machine through its unique driver boards.
Planet CNC works directly in G-code.
The conversational command language is not included.
Planet-CNC translates conversational command language to G-code.
It has an intuitive interface design, with great configuration flexibility.
Pricing: The software is included in the controllers, these Planet-CNC controller starts at $8,477.
Mach-III
Mach-III CNC is widely used for CNC machine control.
It is having a long development track record.
It consists of a customizable user interface for easy learning.
This Mach-III software can be configured in different methods.
The most common method of using Mach-III for driving the boards is Smooth Stepper which is compatible.
Pricing: It costs around $180.
Mach-IV
Mach-IV is modular and flexible CNC software.
Its motion controls are calculated in the core and have improved features compared to Mach-III
It has a unified (GUI) Interface, and customization is easy.
Pricing: for home use, the cost is $200, and for professional use, the cost is $1,400.
CNC Simulator Pro
It consists of virtual CNC controllers to run simulations for CNC machines.
This CNC software comes with a set of combined software tools to simulate milling and press machines, lathes, and 3D printers.
The software is capable of limited 2D and 3D CAD.
Pricing: full-featured version costs around $100 per year.
G-Wizard Editor
G-Wizard Editor is a software tool for writing, editing, and managing G-codes.
It consists of line-to-line "translation to English" to help in reading and interpreting the G-codes.
It has the ability to simulate the cutter path for a wide range of pre-defined machines and cutting tool descriptions.
Pricing: This tool costs around $269.
Turbo-CNC
Turbo-CNC is a DOS program.
Its GUI is a bit primitive.
Turbo-CNC includes:
Source code and developer support.
A code editor,
8-axis common motion with integrated hysteresis compensation,
Parametric programming,
Multi-axis threading,
Pricing: This tool costs around $60