What is the Conductivity of Metals?
To look at it simply, the conductivity of a metal is its ability to transmit or transfer electric current. Its uniform internal structure contributes to this capacity and allows free electrons to travel between the nodes of the structure.
Typically, a free electron takes current and transfers it to the next free electron as it moves internally within the grid. Consequently, an introduction of a foreign body can interrupt this free movement and, as such, cause a level of electrical resistance.
Determining a metallic material's electrical conductivity can often help non-destructive testers identify anomalies within a metal's internal structure. Such anomalies can include cracks, inclusion, and porosity.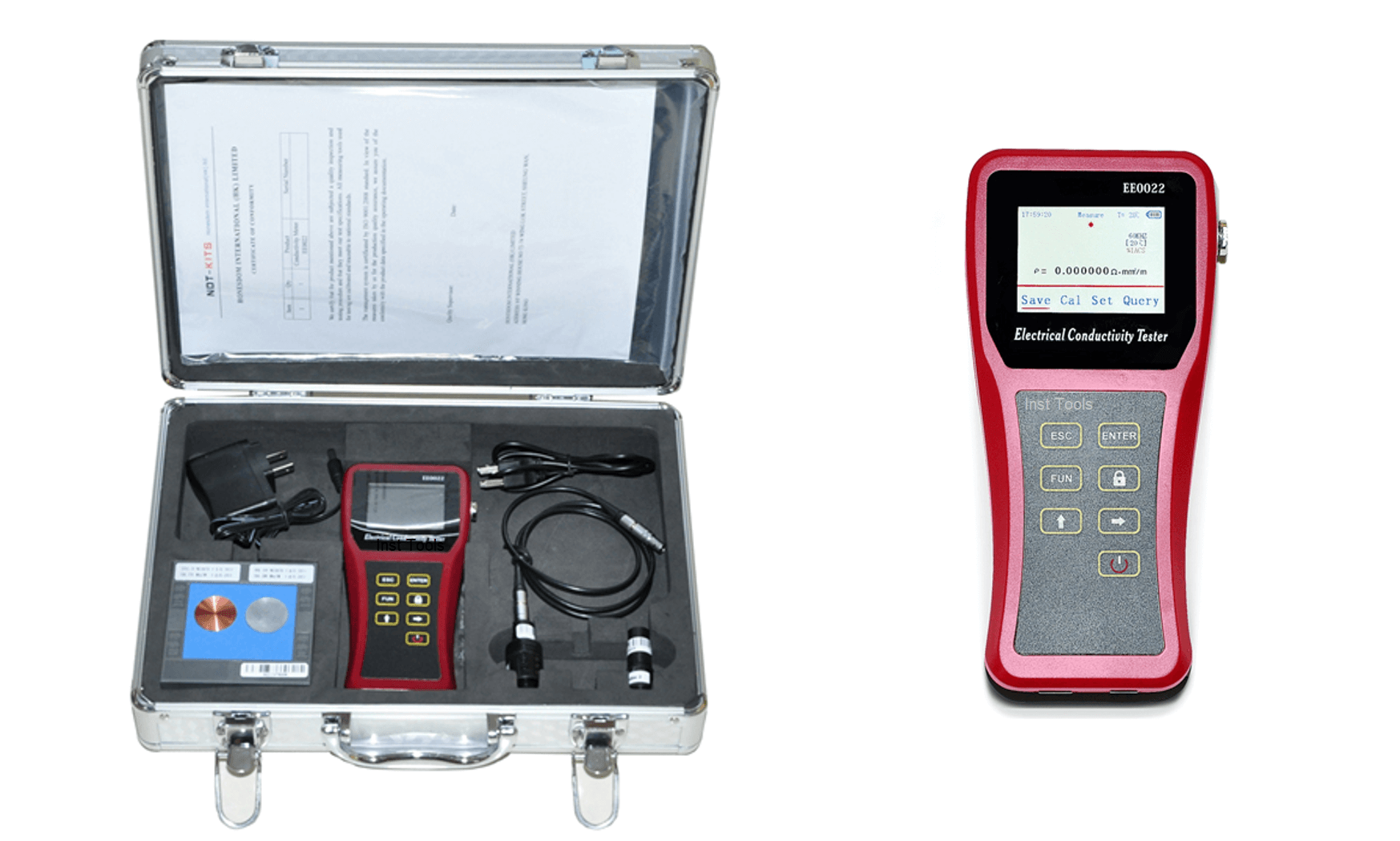 What's the Application of Electrical Conductivity Meter?
An Electrical Conductivity Meter is a device used by quality assessment professionals to measure the conductivity of metals on-site and in the laboratory. They are often portable and can give very accurate conductivity readings pretty quickly.
This explains why they've become the trendy tool in the industry for electrical conductivity measurements. But here is the thing.
The electrical conductivity meter has specific use cases, making it important to know where and when to utilize it for electrical conductivity measurement. 
EC Meters are applicable for testing the conductivity of non-ferrous metals, including copper and aluminum.
They are also applicable for pre-anodizing conductivity tests for aluminum 
The current resistance of a material is also obtainable with an electrical conductivity meter 
For material hardening and heat working processes for metals, an electrical conductivity meter is used to monitor the heat treatment process.
For alloys, an EC meter is used to determine the homogeneity of the alloy components.
What's the Advantage of an Electrical Conductivity Meter?
The advantages of electrical conductivity meters are numerous and are the reason they are the choice tool for industry experts.
The obvious ones are the speed and the ease of use, as you do not require an extensive training period to start using an electrical conductivity meter.
Other advantages include
Easy visualization of results from an onscreen LCD that helps the inspector to view their results without any stress
It has an easy calibration system that eliminates the repetitive calibration process involved with other types of inspection tools.
The results are very accurate compared with traditional conductivity measurements, which are very low.
The detection accuracy of the EC meter is equally very high as it uses a microprocessor to process its data.
It is also very durable to withstand rough environmental conditions and terrains, often the case when on job sites.
EC meters are portable, making them an easy choice for both laboratory and site use.
Automation is possible with EC meters since it has accessories that are easy to integrate with most automation systems. 
It is very cost-effective as a non-destructive testing tool since the test sample is preserved before, during, and after.  
Conclusion
To wrap up, the electrical conductivity meter is a popular tool in the industry for measuring electrical conductivity. The reason is because of its numerous benefits like its high result accuracy, speed, and ease of use.
NDT-KITS is a reliable supplier of quality Electrical Conductivity Meter based in China. They have a long history of consistent successful supply of bespoke, innovative, non-destructive testing solutions with a teeming number of customers to attest to this.
Reach out with your inquiries, and you are sure to get a prompt, helpful, and intelligent response with a professional customer care team waiting to hear you.