In this post, we will see the various types of engineering courses.
As soon as we pass out from our schooling days, we always have a dilemma as to which course to pursue further for higher studies. Basically, higher education is divided majorly in three parts – arts, commerce and science.
In science, majorly two courses are covered – medical and engineering. Engineering is a very vast field. There are so many engineering courses to choose from, that it is difficult to go with the desired one.
Every engineering field has it's own merits. Well, each of them has it's own meaning in the world and it is practically impossible to survive without this.
Types of Engineering Courses
In this post, we will see the various types of engineering courses available.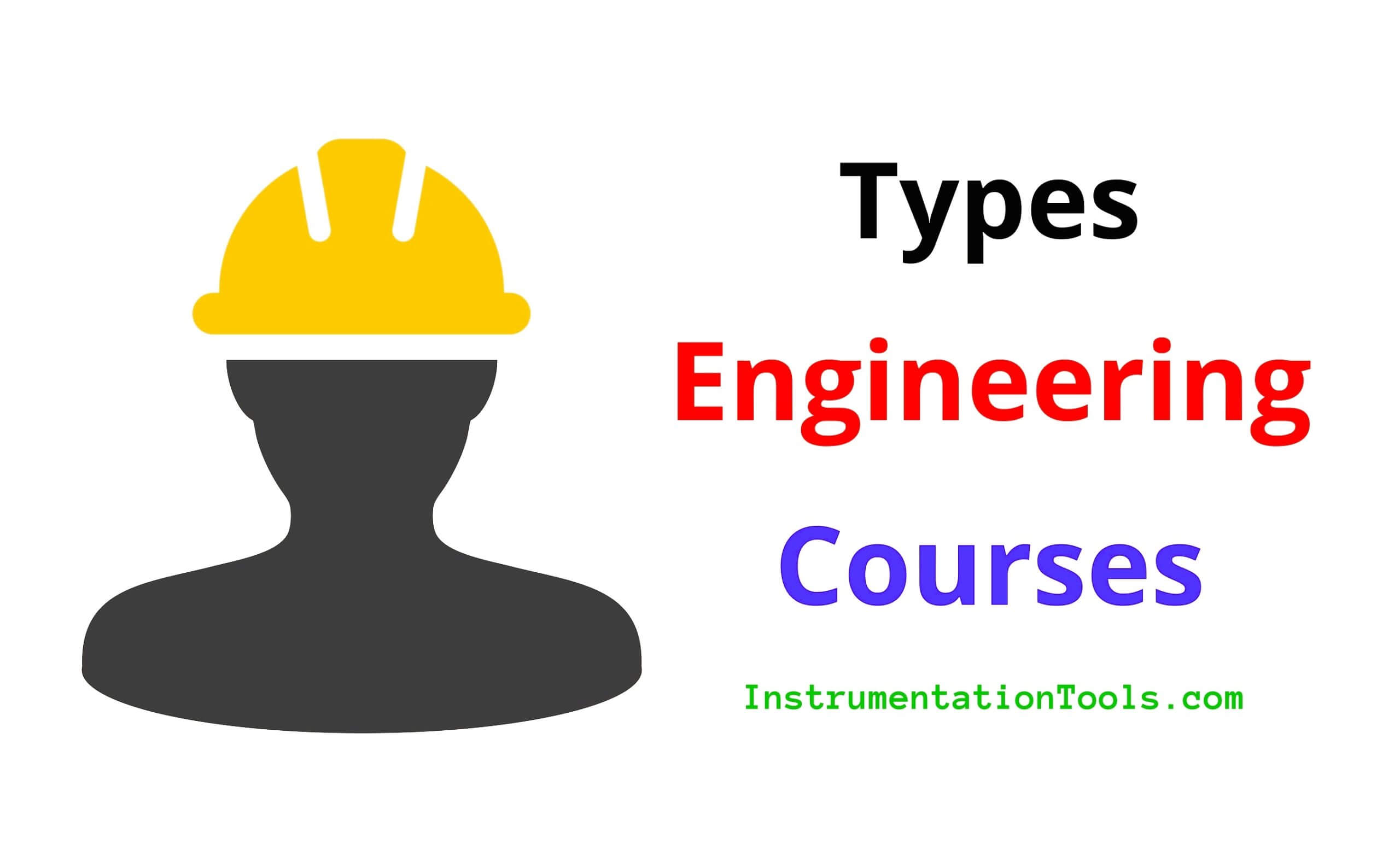 Aerospace / Aeronautical Engineering
Aerospace engineering deals in study of flights, jets, helicopters, satellites and military planes. It involves design, research, development, detailed engineering, and maintenance of flying technology.
Aeronautical caters to flying objects in our atmosphere; whereas aerospace deals with flying objects outside the earth's atmosphere.
Automobile Engineering
Automobile engineering deals in study of automobiles; like cars, bikes, trucks, and buses.
Automobile engineering involves design, research, development, detailed engineering, and maintenance of vehicle technology from the concept to final production.
Biomedical Engineering
Biomedical engineering is a combination of medicine and biology. Healthcare treatment technology is a must in today's world and due to recent advances in biomedical equipment and devices used in hospitals, this engineering is attracting a wide variety of students.
Simply, if you have seen a MRI machine or ECG machine, this technology is related to biomedical engineering.
Chemical Engineering
Chemicals are a very integral part in our day to day life; and every raw material or chemical is used in products starting from basic drinks to highly advanced fuels.
Chemical engineers always find a demand everywhere as every new product requires detailed study in the chemicals used to produce it.
Civil Engineering
Be it any infrastructure project like a building, transport system or water supply network, civil engineering deals in it's detailed design, development, and then building it.
It also involves public and environmental health as well as improving existing infrastructure.
Communication Engineering
Communication engineering deals in study of various communication systems like radars, satellites, telephones, internet, television, and navigation.
Various levels of design and research are dedicated to all the communication equipment used in our day to day life.
Computer Science Engineering
Computer science deals in detailed study and engineering of computer hardware and software. Every mathematics, graphics, networking and security related to computers are covered in this engineering.
One of the most famous sub-engineering field in this category is Information Technology engineering.
Electrical Engineering
This is the most used and demanding engineering field. It deals in design, research, development, detailed engineering, and maintenance of various electrical technology like motors, power distribution, power generation, and industrial machinery.
Basically, every electrical equipment used in our life requires proper electrical engineers to develop and maintain them.  
Electronics Engineering
Electronics majorly deals in embedded systems and VLSI (chip design). Basically, it is a mixture of various topics in electrical and instrumentation engineering.
Today, everything from a small smart-watch to a big aeroplane has electronic devices in it and this field deals in detailed study of the same.
Environmental Engineering
It is a mixture of chemical and civil engineering. Basically, it deals in natural resource management, pollution management and human health care.
An environmental engineer has to develop scientific solutions which will help in a good environment around us.
Industrial Engineering
Every industry has many departments like engineering, finance, manufacturing, human resource, IT networking and various other processes.
Industrial engineering deals in study of each and every department so that the engineer can efficiently handle the working of any industry or factory.
Instrumentation Engineering
This engineering specializes in operation, working and principles of instruments, devices used in industries, medical field, mechanical domain etc. This field is very vast and finds it's use in almost every engineering application.
This is because instruments and devices are heart of a system and improper knowledge and working of them can result in malfunction of that particular system.
Nowadays, industrial automation has reached new heights and an instrumentation engineer finds a suitable place in this domain; because automation is all about understanding of instruments.
In the above mentioned industries, he works closely with many departments like design, purchase, maintenance, operations etc.
Marine Engineering
Marine engineering deals in study of ships (commercial or military), submarines, docks and other sea-craft vehicles.
Marine engineering involves design, research, development, detailed engineering, and maintenance of water vehicle technology.
Mechanical Engineering
This field deals in working of machines, it's mechanical parts, statics and dynamics, thermodynamics, fluid dynamics, and technical drawings.
Machines are used everywhere and a mechanical engineer has a great scope in working of various industries and departments.
Metallurgical Engineering
This field deals in fundamentals of metal processing, extraction and it's designing. Various metals have their corresponding chemical and physical behavior.
So, this engineering has a vast scope; because metals are used everywhere and it is important to study their aspects which helps in dealing with metals more easily.
Petroleum Engineering
Petroleum engineering is an interesting field which covers exploration and study of crude oil and gas. It is a mixture of mining engineering and geology. Crude oil is a very important part of our life; and it is also very critical in operation.
As it is highly inflammable in nature, it is important that a petroleum engineer has a fair knowledge of oil operation processes, chemicals, gases and steam in an oil reserve. He must properly maintain, design and research the oil fields as this is where you extract the natural gas and crude oil.
Paint Engineering
Paint engineering teaches how to create paints and deal with different types of polymers, pigments and raisins.
Paint engineering is a very rare field as there are very few colleges providing this course. So, it is highly demanding and paint engineers always find great opportunities in market.
Robotics Engineering
As the name suggests, this engineering covers operation, design, maintenance and research of robots.
Industrial robots are the future of modern industries and a robotics engineer has a great scope in improving his career.
Rubber Engineering
This engineering covers various aspects of manufacturing, studying, and designing rubber products.
Rubber is used everywhere; right from small erasers to tyres. Latex, natural rubber and synthetic rubber is used for study in this field.  
Textile Engineering
Textile is one of the most basic and widely used products in our life. This engineering deals in study of textile fabric manufacturing processes. It is also a mixture of chemical engineering, as various chemicals are used in producing a cloth.
There are various other engineering courses too; but these discussed here are the most generally studied ones. In this way, we saw various engineering courses available for study.