Consider this control system, set up to maintain the temperature of a chemical reactor vessel at a constant ("setpoint") value.
The reactor's source of heat is a steam "jacket" where hot steam is admitted through a motor-operated (M) control valve (TV) according to the temperature inside the reactor sensed by the temperature transmitter (TT):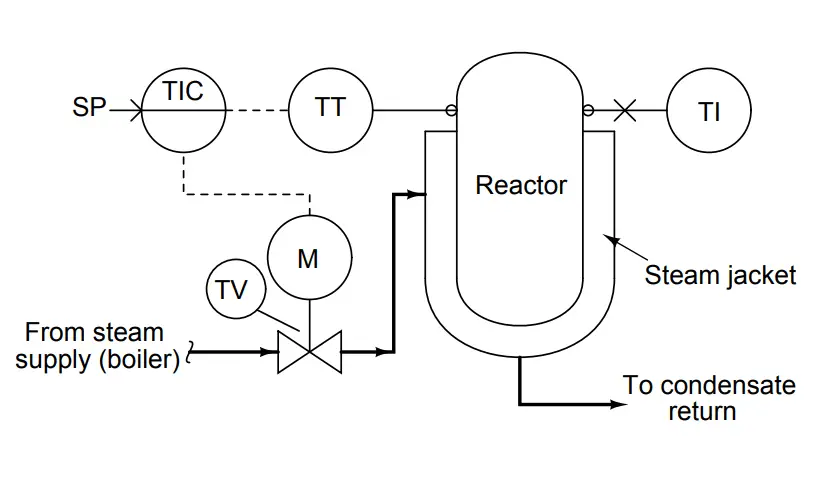 You arrive at work one day to find the operator very upset. The last batch of product emptied from the reactor was out of spec, as though the temperature were too cold, yet the controller (TIC) displays the temperature to be right at setpoint where it should be: 175 oF.
Your first step is to go to the reactor and look at the temperature indicating gauge (TI) mounted near the same point as the temperature transmitter. It registers a temperature of only 137 oF.
From this information, determine what is the most likely source of the problem, and explain how you made that determination.
More Questions :
Why was it a good decision to consult the temperature gauge (TI) on the reactor as a first diagnostic step?
Suppose a fellow instrument technician were to suggest to you that the problem in this system could be a controller configured for the wrong action (e.g. direct action instead of reverse action). Do you think this is a plausible explanation for the symptoms reported here? Why or why not?
Could the problem be that someone left the controller in manual mode rather than automatic mode as it should be? Explain why or why not.
Based on the P&ID shown, are the instruments pneumatic or electronic?
Given the fact that we know this reactor is steam-heated, is it possible to conclude that the chemical reaction taking place inside it is either endothermic (heat-absorbing) or exothermic (heat-releasing)?
Safety shutdown systems often use a "two-out-of-three" (2oo3) voting algorithm to select the best measurement from three redundant transmitters. Explain how this same concept may be applied by the instrument technician in the course of troubleshooting the problem.
Share Your Answers via Comments
More Questions & Answers :