A 1/4" NPT connection size doesn't have the 1/4" measurements where you think they would be.
In fact, the connection's outside diameter measures a little more than 1/2″ wide.
Did I just blow your mind?
Well, take a deep breath and hang on for a bit while we discuss the different factors that go into determining the NPT size of a pipe connection.
Or, if you are the impatient type, skip ahead to the chart below.
NPT CONNECTION BASICS
First off, NPT stands for National Pipe Thread, but you probably already knew that from other research or from our Industrial Vocabulary List.
NPT is a standard pipe connection designed specifically to create a fluid-tight seal between valves, pipes and fittings. Their tapered thread design makes them one of the most common general-use pipe threads available.
The threads are deeper at the end of the pipe and shallower at the base (moving away from the end of the pipe). This is done while maintaining a 60° thread angle, to ensure that the threads pull tight but are still uniform.
MEASURING AN NPT CONNECTION
Back to the topic at hand. There is no direct naming relationship between the measured diameter of a pipe's threads and the corresponding NPT size.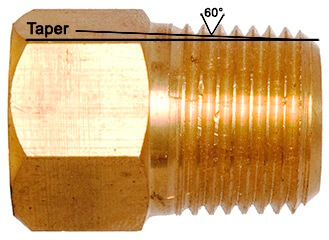 Fig : An NPT connection's threads taper and become shallower as they move toward the base.
A 1" NPT male connection has an outside diameter (OD) of about 1.3". An 8" pipe has an OD of about 8.6".
The measurements are "trade sizes."
That means they are uniform sizes according to the diameter of the pipe or fitting that they can be used with.
That's what makes it easy for the fella at your local hardware store to identify what ball valve will fit your piping.
Sadly, that doesn't help when people are trying to measure something for themselves and come up with a completely wrong size, which in turn translates into the wrong NPT connection.
This exact scenario happened a couple of days before we posted this article, which is the reason I wanted to write it for you!
What I can do for you is give you a table to compare your measured size to the corresponding NPT size.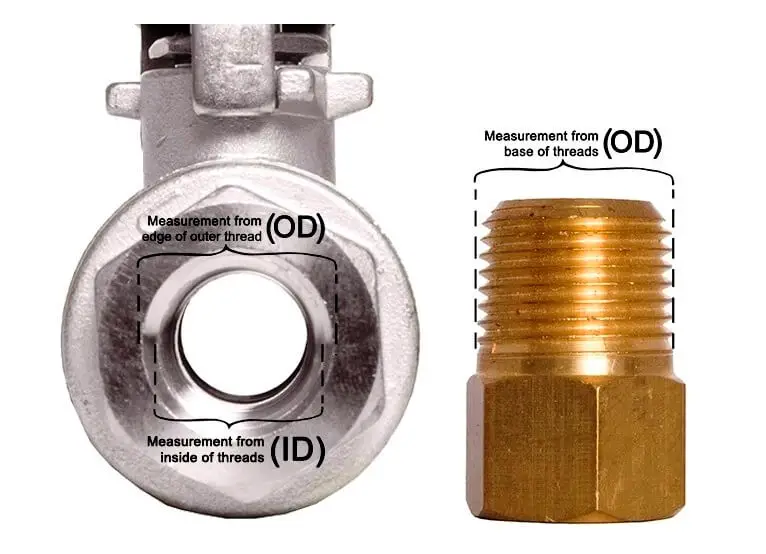 Fig : Male connections rely on the OD measurement, while female connections can use OD or ID.
Just measure the outside diameter (OD) or inside diameter (ID), as illustrated in the picture above.
The OD measurement for a male connection should be taken near the base of the threads, farthest from the end of the part.
An ID measurement for female connection should be taken as close to the opening as possible while remaining within the threads.
An OD measurement for a female connection is more difficult, but sometimes may be taken by measuring outermost edge of the threads at the pipe opening.

FACTS ABOUT NPT YOU SHOULD KNOW :
NPT measurements are sometimes referred to by different names: FIP (for Female Iron Pipe), MIP (Male Iron Pipe), MPT (Male Pipe Thread), FPT (Female Pipe Thread) and IPT (Iron Pipe Thread).
Although NPT connections do seal better than straight thread connections, they do require a pipe sealant to ensure the connection is air-tight. This is thanks to minute differences in pipe and fitting, which can create gaps that cause leaks.
A solution that doesn't require sealants comes in the form of NPTF (National Pipe Thread – Fuel) threading. The threads on those connections are crushed together during tightening, creating a strong seal.
NPT and NPTF threads can be used interchangeably, so long as an appropriate sealant is used. NPT and NPS (National Pipe [Thread] Straight) are NOT interchangeable.
Author : Kirk Dickey
Reference : directmaterial.com
Also Read : Field Instruments Tips