The short answer is: although both "buses" are very similar, they are not the same!
Here is what's different: PROFIBUS is the overall name for a process fieldbus solution that includes the application and industry-specific PROFIBUS DP, PROFIBUS PA, PROFINET, and PROFIsafe. In the process industry, we see mostly PROFIBUS DP and PROFIBUS PA.
PROFIBUS DP (decentralized peripheral) is the RS485-based high-speed (up to 12 Mbit/s) solution for connecting remote I/O systems, MCCs (motor control centers), or similar externally powered devices to a PLC or DCS control system.
PROFIBUS PA (process automation) is defined in the IEC 61158-2 standard and used predominantly in process plants. It is suitable for general purpose and hazardous locations and delivers power (up to 32 V) and communications (31.25 kBit/s) on the same cable (bus powered) to PROFIBUS PA instruments such as flow meters and temperature or pressure transmitters.
Typically, PROFIBUS PA applications are connected to a PLC/DCS control system via a PROFIBUS DP network, which requires aDP/PA Segment Coupler. These coupler devices are necessary to connect the two different physical layers of the high-speed, non-bus-powered DP to the lower-speed, bus-powered PA. The Segment Coupler includes the power supply modules needed to condition 24 VDC bulk power for use on PROFIBUS PA. PROFIBUS PA does not support CIF (control in the field), where instruments can talk to each other even if the connection to the host is lost.
Just like PROFIBUS PA, FOUNDATION fieldbus is based on the IEC 61158-2 standard. This means that both networks are based on the same physical layer and used in similar industries and for the same types of application. The physical layer defines the cable type (Type A fieldbus cable with specific R, L, and C values, twisted shielded pair) as well as the min/max power levels (9 V … 32 V) and the transmission rate (31.25 kBit/s). Since PROFIBUS PA and FOUNDATION fieldbus are based on the same physical layer, the same type of field distribution devices like Segment Protectors and FieldBarriers can be used for both networks.
Similarities between Foundation Fieldbus and Profibus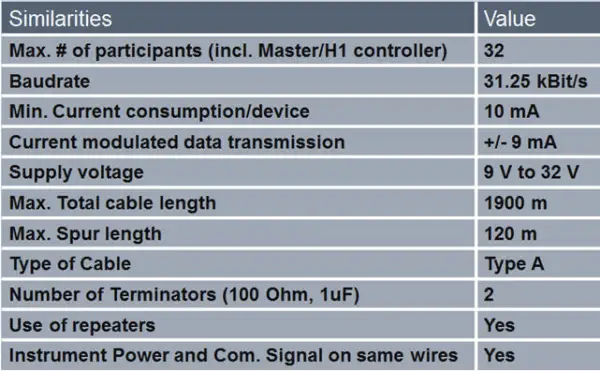 Architectures of Foundation Fieldbus and Profibus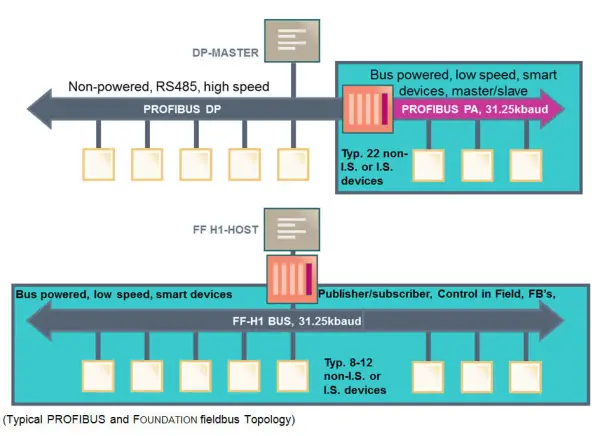 Unlike on PROFIBUS PA, FOUNDATION fieldbus typically does not require a Segment Coupler but interfaces directly into the DCS control system via a H1 fieldbus interface card (see picture above). Some DCS solutions, however, use a high-speed Ethernet/FOUNDATION fieldbus linking device instead of a direct fieldbus interface.
FOUNDATION fieldbus utilizes standardized function blocks (FB's) for analog and discrete signals, which makes it easy to create a control strategy by simply connecting blocks together. It is also possible to download the control strategy (i.e., P&ID loop) to the instrument, which enables control in the field (CIF) in case the connection to the DCS is lost.
Difference between Fieldbus and Profibus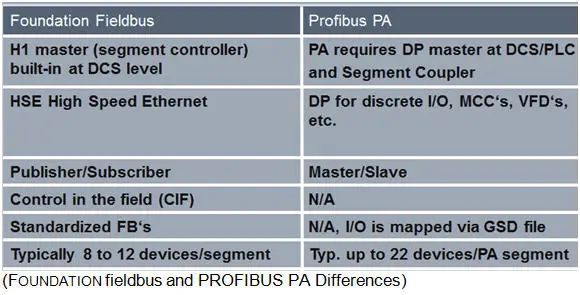 Also Read: Interview Questions on Fieldbus Communication