Like bipolar transistors, SCRs and TRIACs are also manufactured as light-sensitive devices, the action of impinging light replacing the function of triggering voltage.
Light Activated SCR
Optically-controlled SCRs are often known by the acronym LASCR, or Light Activated SCR.
Its symbol, not surprisingly, looks like Figure below.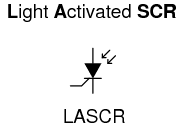 Light activated SCR
Opto-TRIAC
Optically-controlled TRIACs don\'t receive the honor of having their own acronym, but instead are humbly known as opto-TRIACs.
Their schematic symbol is shown in Figure below.

Opto-TRIAC
Opto-thyristors
Opto-thyristors (a general term for either the LASCR or the opto-TRIAC) are commonly found inside sealed "optoisolator" modules.