Fire fighting equipment is designed to extinguish fires or protect the user from fire. The user may be a trained firefighter, untrained users at the site of the fire.
Fire fighting equipment not only fire hoses and fire extinguishers but also its connected fire branch equipment. The nozzle is a part of fire branch equipment.
A nozzle is generally a pipe of varying cross-sectional area, it can be used to direct or modify the flow of a fluid.
Nozzles are frequently used to control the rate of flow, speed, direction, mass, and shape of water or gas used for fire extinguishing. 
Types of Fire Fighting Nozzles
Short Branch nozzle
Fog nozzle
Hand Control nozzle
Tripple purpose nozzle
Diffuser nozzle
Multipurpose (curtain) nozzle
Curtain nozzle
Revolving nozzle
The selection of fire branches is a function of its end-use. 
The water flow rate will ultimately extinguish the potentially high energy fire in an industrial environment.
Short Branch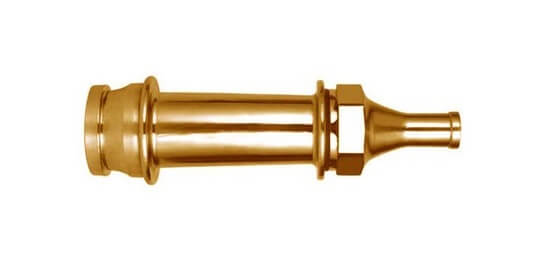 The Short branch is still popular and commonly used in most fire brigades as the basic fire-fighting nozzle.
This can be fitted with a choice of nozzles that are suitable to flow and operational requirements.
Fog Nozzle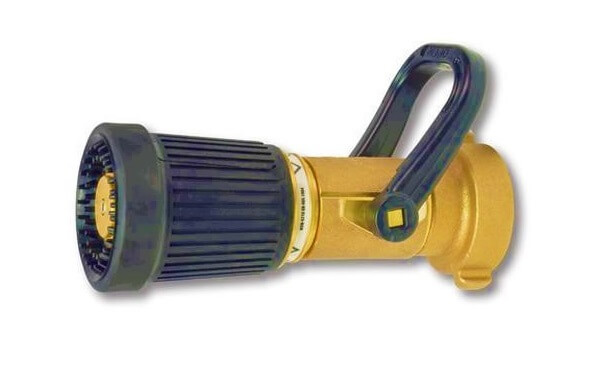 Fog nozzle breaks stream into small droplets which spread in greater surface area, so heat absorption is high with this nozzle. 
Fog nozzles ideal for fires that give out a large amount of heat, and hence require extensive cooling.
In the fog position, this branch creates very fine droplets i.e. "fog", greatly increasing the surface area. Thus helping absorb maximum heat.
Hand Control Nozzle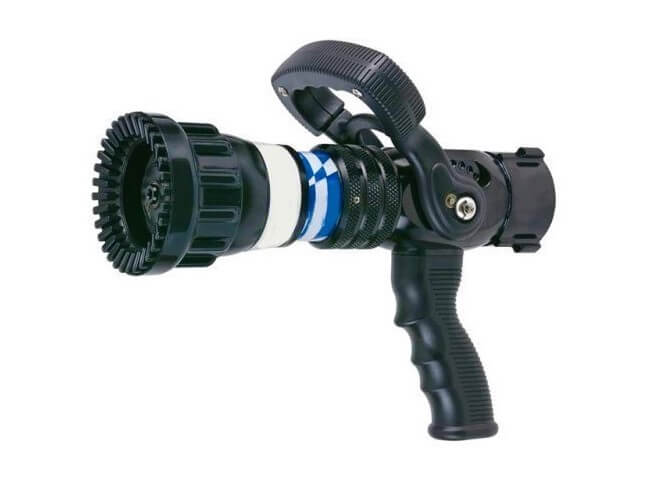 The Hand Control nozzle is used by many government fire service departments and industrial Fire brigades for firefighting.
It has an On-Off facility at the same time a certain type of spray can be operated simultaneously with the jet application.
Triple Purpose Nozzle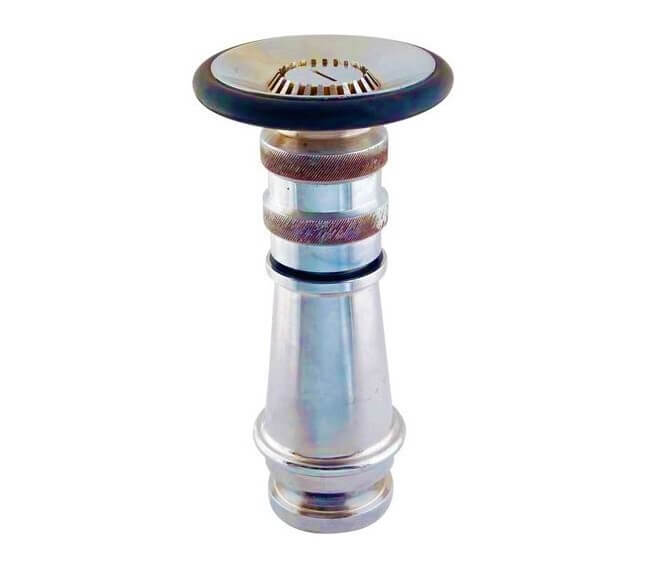 The Triple purpose nozzle gives the operator option of three functions.
It is a jet, spray, and shut-off. Because of the operation, and limited back-thrust, it is fast replacing the standard short branch in the industrial sector.
Diffuser Nozzle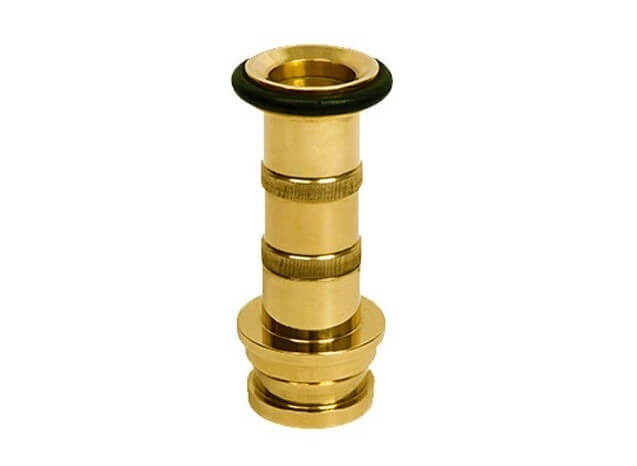 The Diffuser / Navy type nozzle, also known as Combination nozzle, is widely used in shipping, marine, and also in industrial applications. 
Multi-purpose Nozzle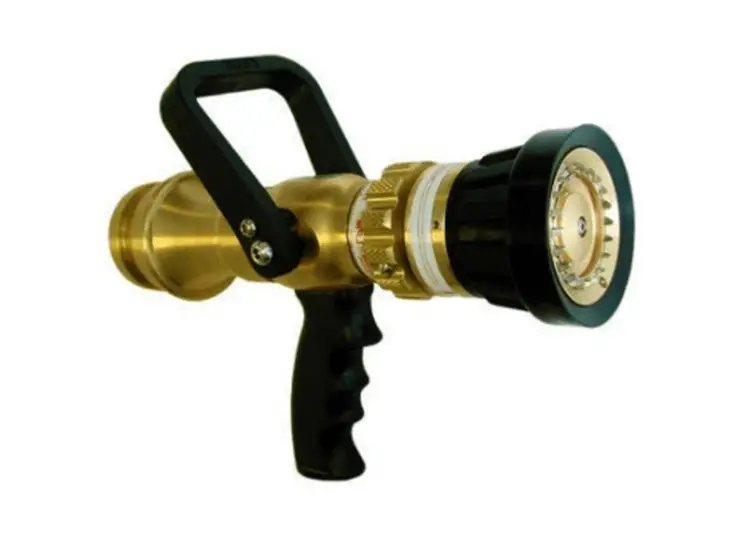 The multipurpose nozzle is capable of giving jet spray and curtain, both functions.
The Multipurpose (curtain) nozzle is most popular throughout the world as the basic firefighting nozzle as it is low in weight has lower flow rates and a shut-off facility.
An additional curtain facility gives the fire fighting servicemen better protection from radiated heat.
 Curtain Nozzle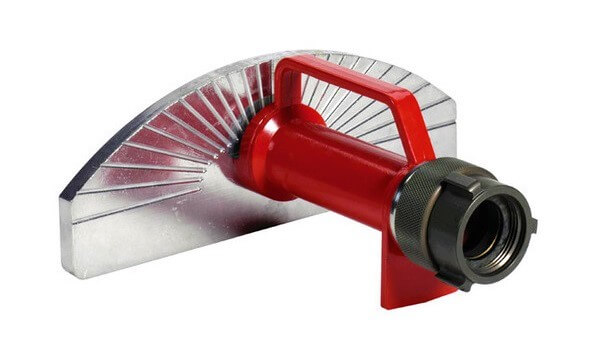 Curtain nozzles create a flat semicircular spray of water, useful for protecting the fire fighting personnel and equipment from the radiated heat of the fire, and intercepting the spread of fire.
It is safe from spark and smoke protection.
Curtain nozzles are available in various capacities, with portable and fixed options.
Revolving Nozzle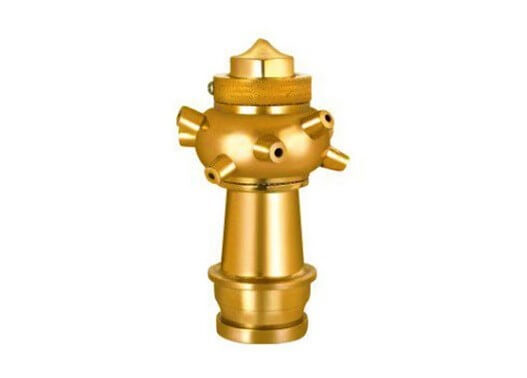 As shown in the above figure, As shown in the below figure, the Revolving nozzle has nozzles located at three different angles.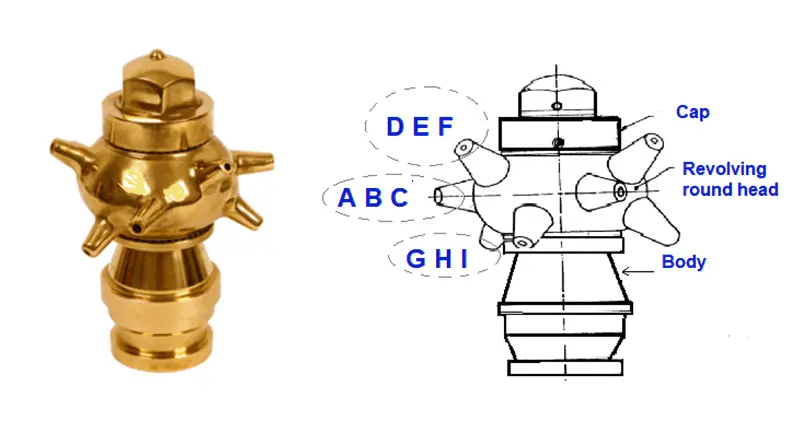 1.ABC at circumference plane.
2.DEF at upper half pointing upward at 45 degrees to the vertical.
3.GHI shall be in the lower half pointing downwards at an angle of 45 degrees to the vertical.
Revolving Nozzles creates a three-dimensional spray, generating exceptional cooling.
This can be used for protecting fixed Roof Storage tanks where the vapor pressure maintained close to atmospheric pressure for fire prevention applications.
Indian Standard (BIS) IS 906 available in different capacities/ ranges and with coupling/flange connection.
Read Next: