Temperature Calculator software is based on the conversion tables and calculation as per ITS-90.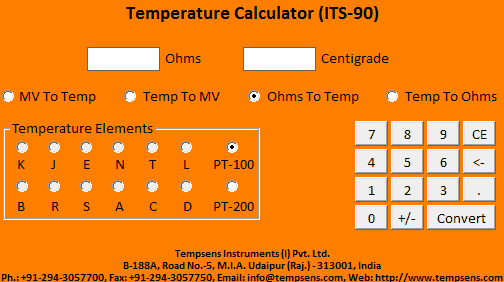 This software is used to convert the Emf (mV)/Ohms generated by thermocouple & RTD to the temperature or vice versa. It includes all type of thermocouple including base metal thermocouple (K, J, N, T, E), Refractory thermocouple (C, D, A), noble metal thermocouple (R, S, B), and RTD PT-100 & PT-200.
Temperature calculator is very useful for the personals, who are involved in thermocouple & RTD measurement in there regular routine, it is very easy to use and saves the time to look for the tables for conversion.
Designed by : Tempsens