Here in this article, we discussed the general testing or healthiness checking procedure of a Heat Detector which is used in the fire and gas system.
Heat Detector Testing Procedure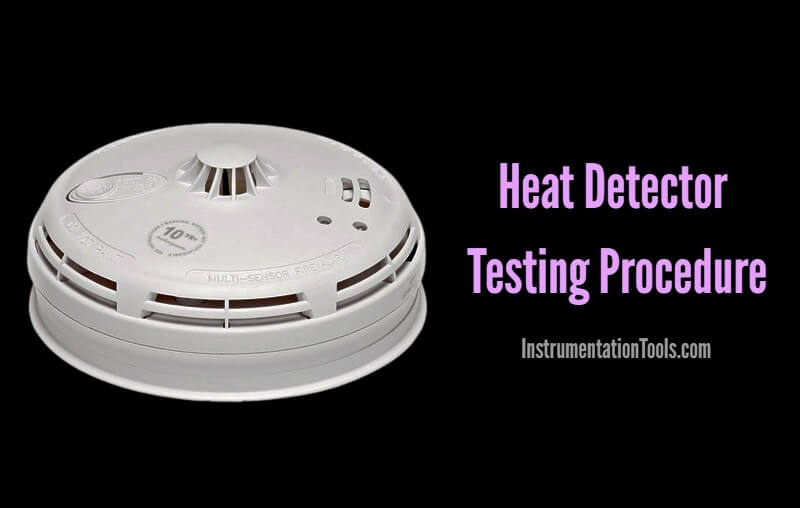 Before starting the job, take the proper work permit and inform to all the respective departments. Then do force the respective logics or interlocks if any (like fire suppression systems activation etc)
Prior to testing of Heat detector see the LED status of the Heat Detector it should be blinking red.
Check the voltage of the Heat Detector, it should be + 30 Volts DC. This can be checked by the addressable base of the detector. (Digital type detector).
Now Heat Detector is healthy and it is ready for testing.
Clean the Heat Detector's dust by cotton cloth and blower
Apply the heat to the Heat Detector by solo heat-detecting gun.
Keep applying heat for 10 seconds.
After 10 seconds LED status of the Heat detector is changing from steady blinking red to steady red and after that alarm appears and the hooter is activated on the fire alarm panel.
To silence the hooter press the acknowledge key to the Fire Alarm Panel.
After the alarm appears remove the heat-detecting test gun from Heat Detector.
Note down the alarm tag and descriptions from the HMI or workstation. The alarm details must match with the heat detector tag number and installed location.
Confirm the heat detector activation status from the respective graphics page. You have to visually identify the color change signals of the respective heat detector on the graphics.
Reset the alarm of the Heat detector from the Fire Alarm Panel.
The LED status is changing from steady red to blinking red.
Heat Detector is now working normally.
Normalize the forced interlocks or logics if any.
Note: The mentioned voltages, terminals, circuit module names may change as per the vendor or model of the Heat Detector.
Author: V Hemanth
Read Next: